Don't forget to enter the amazing ORNAMENT GIVEAWAY! ends tomorrow!
I'm so pleased to have another guest poster today. Krista from Everyday Mom's meals has some great ideas. She's a faithful participant in my Tasty Tuesday parties, so I am SO excited for her to host todays party.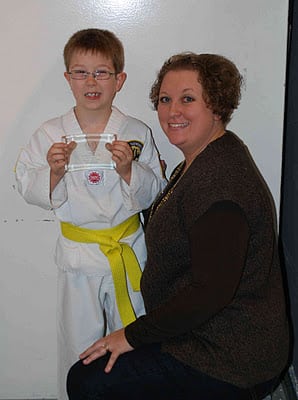 Hi I am Krista, and I'm the everyday mom of Everyday Mom's Meals. I have been blogging since May 2010, and absolutely love the foodie community it has opened up to me. I am a full time wife and mother, to be my husband of almost 9 years, Adam, and our 7 year old son, Alex. I enjoy easy, home style recipes that bring my family around the table to share good times, and make wonderful memories. I like to think my blog is for everyone, from the novice cook, to the experienced, for the wife who has extra time to cook, to the working mom who needs to get a tasty, quick meal on the table her family will love. I hope you stop by Everyday Mom's Meals soon! You can also find me on Facebook, Twitter and Pinterest.
Today I'm sharing a SUPER easy Christmas recipe that we started making last year. (As the photos of my son indicate. It's amazing how much they grow in a year!) These are a perfect after school treat, hostess gift or yummy treat for your next holiday party. And the best part? They are a wonderful "kid friendly" recipe that little hands can help make during the holiday baking marathon! I hope your kids enjoy them as much as Alex, and from our family to yours….Merry Christmas and a Joyous New Year!
Chocolate Pretzel Treats
1 bag mini pretzel twists (rings work too)
1 8 oz package Hershey kisses, each piece unwrapped
1 bag M&Ms
Count out the number of kisses you have. This way you know the number of pretzels you need. There will be more pretzels and M&Ms than kisses. Place the pretzels on greased baking sheets; place a chocolate kiss in center of each. Bake @ 275º for 5 minutes until chocolate softened. Remove from oven. Place an M&M on each, pressing down slightly so warm chocolate fills the pretzel. Chill for 5-10 minutes until firm. Store in airtight container at room temperature.
*We actually put ours in the freezer to speed up cooling and setting.
*I store ours in the fridge b/c our kitchen gets a lot of sun light and is warm most of the time.
*Steps the kids can help with: Unwrapping all the kisses, placing pretzels on sheets, putting kisses in center and taking off sheets when cool.
Thanks Krista…looks SO yummy!
 
And Now….here are just a few of the amazing links from last week. You are all SO creative!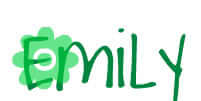 Looking forward to seeing you around the blog…. don't be a stranger!