Many moons ago, when we had about 5 toys… I
made bags
to keep things organized. Now two years later with two kids… the toys are pretty much all over! However, they got a music set for Christmas and I wanted to be able to keep the instruments together. I went back to my toy bag roots and came up with a simple draw-string to keep them together, yet assessable.
 Because this was for musical instruments I sewed a couple felt "notes" to the front of the bag.
 I made a simple casing on the top edge and threaded a ribbon though it.
Fun, noisy times ahead!
 keeping the little one occupied while I sewed this bag….
QUESTION?
 Where do you buy thread? I was thinking of this while baby was playing with the thread selection I got over Christmas from Joannes. I had never bought a set like this, but it was on sale and I had an additional coupon. Thread is EXPENSIVE! What do you do? I've looked at buying online (ebay, etc) but not sure about quality…. I seem to go through a lot of thread.
Shared on these fab sites: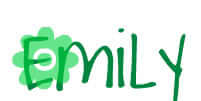 Looking forward to seeing you around the blog…. don't be a stranger!