Have you seen my picture archives yet? I've got all my tutorials and free patterns and recipes done and am trying to keep up as I add more. I've envied those who have their archives in picture form and have seen a couple of tutorials for ways to do this. One popular one is to use a linky program and another involved some HTML coding… I've figured out a way to do it for FREE and with NO CODING! yeah! It looks something like this: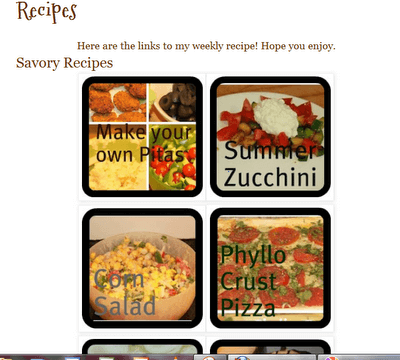 okay, lets get started! First you need to edit your picture to what you want for your menu. I did most of mine in picnik… but we all know that rides almost over… SO…for this tutorial I used
picmonkey
. For the most part, its great… the biggest thing I've noticed is that you can't save to the site, only to your computer. Once its saved you can't undo any edits… But, for this menu editing, it works great!
Upload the picture you want to edit…you will see something like this… menu on the side.
you need to RESIZE first, otherwise when you crop you will just have a tiny bit of something…I want a final square of 150×150, so I resize to slightly larger than that.
Then I go to CROP, and get my final little square size.

 Now, I like to put a border around the square. So, next up is BORDERS.
I used the simple edge, followed by rounded corners.
Next up… TEXT. I like to put the title of the post clearly on the square.
Save to your computer. With the borders my square ends up just slightly larger than I started with. You need to keep them all the same or or you will end up with some that look out of place (you can see this in my tutorial and pattern page, opps!)
Now, open blogger (or other host) to the page you want your menu to be on. Upload your new edited photo. I center mine on the page and make it the small size.
Click on the picture to highlight it. While its highlighted, click the link button. You may have to click link twice, once to undo the original link (pictures are linked to themselves when they are uploaded) and another time to bring up this box. Make sure there is nothing in the text to display or link go lines.
The text to display will be blank always because you are linking to a picture, not text. Open (in a new window or tab) the blog post you want to link the picture to. Copy this address.
 Paste the address into the link line (To what URL should the link go?)
 Click OK…and…your photo should now be linked to your original blog post. You can check by clicking the picture (in edit mode) and see what link appears. 
So that's it! You can arrange the pictures however you want. I've made two per row because I wanted nice big thumbnails. 
Please let me know if you have any further questions… I'll update this tutorial as needed and hope its helpful to you!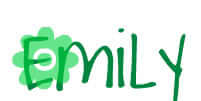 linked to these great parties:
Sundae Scoop-I Heart Naptime with Chocolate Sundaes
Nifty Thrifty Things Sunday-Nifty Thrift Things 
Simply Klassic Sunday-Simply Klassic Home

Looking forward to seeing you around the blog…. don't be a stranger!