The great posts just keep on coming! Here is another fun and easy Christmas craft….
Oh and have you entered the SmileBooks Giveaway???
coupon codes for three free books up for grabs!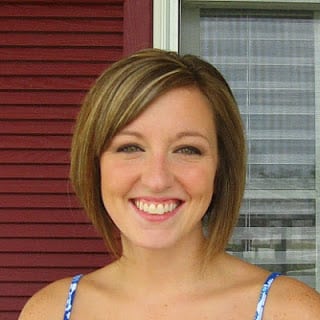 Hello new friends! I'm so happy to be guest posting here at Naptime Creations, thanks Emily!
I'm Katie Drane, the thrify crafter, Southern cooking enthusiast and human encyclopedia of random tips behind Fun Home Things. I am also a full-time SAHM to my daughter Sophie, and wife to Ryan. I love sharing craft, DIY, and cooking tutorials that anyone can do and afford and I believe that everyone has the ability to be crafty, some just need more pictures than others:) I would love for you to visit me at Fun Home Things. You can also find me on Facebook, Twitter and Pinterest.
Today I'm sharing a fun little holiday craft using Dollar Store toys. My daughter is a collector (i.e. hoarder) of all things tiny. McDonald's toys, Dollar Store toys, anything small and painful when stepped on is what she loves to collect. Problem is, there's no more room to store all of her little treasures. So instead of tossing them, I decided to upcycle them into cute holiday decorations. All I had to tell Sophie was that we were going to use glitter and she was on board.
The deer family was perfect. Holiday-ish and they had not been played with for months. Score!
Supplies
Cheap miniature plastic animals
Krylon Metallic Brilliant Gold spray paint
Glitter
Mod Podge or glue
Hot glue gun
String (if making an ornament)
Directions
Spray paint each toy. It may take a few coats to get all the nooks and crannies. Let dry.
Add to a tablescape or wreath. Want to make an ornament instead? Keep reading!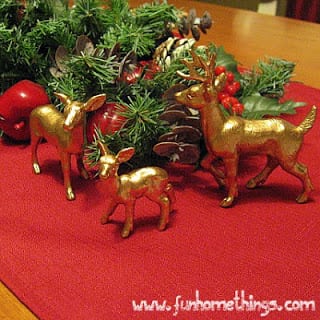 Create a loop out of string and use a glue gun to attach it to the top of the deer. It will be covered in glitter so don't worry about making it pretty.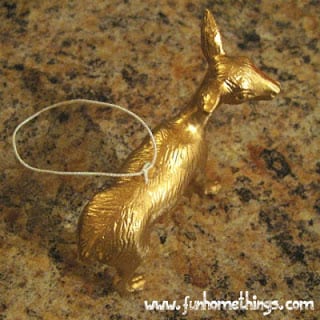 Coat with mod podge or glue and cover with glitter.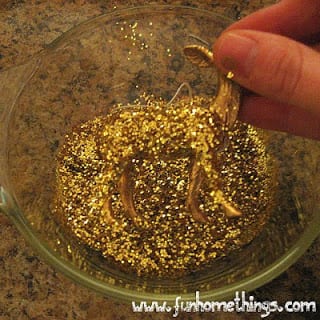 When glue dries, it's ready to hang!
Easy, right? What toys are you going to turn into decorations?
Wow, I am having visions of glittered dinosaurs and Thomas the trains right now..Thanks Katie for the amazing inspiration!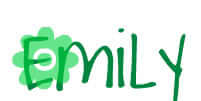 Follow along here: Facebook * Pinterest *
 Subscribe in a reader
Shared here:
Looking forward to seeing you around the blog…. don't be a stranger!