I've been a little behind in my posting this week due to the fact I traveled back to Hong Kong with my two little boys (alone) last Friday. I've been consumed with packing, traveling and unpacking so no time for blogging! I'm excited to be getting this post up though!
 One of my VERY FAVORITE garden foods: Zucchini! And my favorite way to prepare it is with tomatoes and cheese… Here's how you can make this delicious veggie.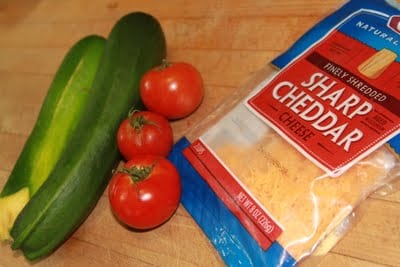 You will need:
2 Zucchini
Tomatoes (if you don't have fresh from the garden, I like to buy cherry tomatoes)
Cheddar or Cottage(low fat) Cheese
Garlic Salt
Olive oil for sautee
Chop the Zucchini into bite size pieces leaving the skin on. Pour about 2 TBS of oil into pan and let it heat. (I like to use a Wok for the pan). When really hot, add the Zucchini. Sprinkle with Garlic Salt (I like to use a lot!) Let brown on one side before turning. Continue to let brown, then stir until brown on outside and soft inside. Place on plate, top with tomatoes and you choice of cheese. YUM!
 Onto today's party! Sorry last week the post was delayed. Sometimes I seem to have trouble with the scheduled post option….
 SO many yummy things to choose from!!! I love all the ideas and appreciate all the links. Here are a few of my favorites, grab a button if you were featured today!
The Green Caterpillar- Black Bean Quesadillas
Now for this weeks party…
Looking forward to seeing you around the blog…. don't be a stranger!