Looking for Tasty Tuesday? go HERE
Saw this on Along for the Ride and thought I would do the same!
I'm weird because…
Pickles are one of my favorite foods
I don't mind sticking my finger in a diaper to check for poop
I sit for 7 hours every few months to have the curl taken out of my hair with a straight perm
I'm awesome because…
(this one is hard for me)
My faith and family are the most important things in the world to me
I make sure my kids eat vegetables :o)
I travel half way around the world (15 hr flights) alone with my two kids
I'm a bad friend because…
I moved 8,000 miles away from my childhood, highschool, and college friends
with the time difference its hard to make phone calls, so we don't talk often
I have two little kids so deep conversations are hard
I'm a good friend because…
I would do anything/give anything for a friend
I am good at e-mail/facebook and blogging
I can ignore my kids and have a good conversation even with them around
I'm a bad wife because…
blogging and crafting often takes priority over cleaning
I don't always have the house cleaned up when the hubs comes home
there are little threads and bits of material everywhere from my sewing projects
I'm a good wife because…
I make healthy meals for my family
I eventually do get around to the laundry, dishes and cleaning
I love my husband no matter what and appreciate all he does for our family
I'm sad because…
I won't get to spend thanksgiving with my family
many people around the world don't have the bountiful food and "stuff" that we do
I have been on hold all afternoon (the phone is at my ear right now!) and can't talk to anyone!
I'm happy because…
Tomorrow we will be celebrating Thanksgiving here in Hong Kong with 90 wonderful friends and colleagues
We are going home for Christmas in three weeks
Husband has Friday off so we are going camping as a family.
Janny from Que Linda passed the Liebster award on to me, so I am going to keep the love flowing!
The word "liebster" actually comes from the German word for love, friend, or dearest.  Isn't that sweet?  I love it!  
The goal of this award is to spotlight up-and-coming blogs with less than 200 followers 
The official rules for this award are:
1. 
Copy and paste the award on your blog
2. 
Thank the giver and link back to the blogger who gave it to you
3. 
Reveal your top 5 picks and let them know by leaving a comment on their blog
4. 
Hope that your followers
will spread the love to other bloggers
Now I get to spread some friendship and love to 5 blogs~
I am SO excited to (almost) be ineligible for this award as I am nearing 200 followers…. wahoo!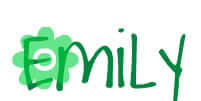 Looking forward to seeing you around the blog…. don't be a stranger!
Check out these other fun posts