Yes, you are in the right place…What do you think of my new look? I had some fun yesterday playing around and making a few changes. Let me know if you have any problems with layout or anything.
 My Grandma always made these for Christmas. I didn't like mushrooms, but I always LOVED these! While Grandma slaved over the stove for hours… I've simplified this recipe and now it only takes minutes.
You will need:
White Button Mushrooms (Take out the stems)
Box Stuffing
Parmesan Cheese
1 TBS olive oil
For a dozen mushrooms you will need about 3/4 cup dry stuffing and 1/4 cup cheese. Mix hot water and oil into the mix until just moist. Stuff the mushrooms to overflowing with the mix. Cover and bake (350) for 35 min, then uncover and bake for another 10 min. Mushrooms should be soft and stuffing brown on top.
   Now, Onto YOUR fabulous foods from last week. Wow, so many great Easter/Spring ideas… You are so creative! Your families are so blessed to have you all cooking/baking for them!
 (No Photo, wouldn't upload to my computer)
Looking forward to another fabulous week of links!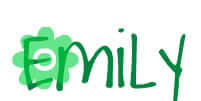 Looking forward to seeing you around the blog…. don't be a stranger!
Check out these other fun posts