This morning at my moms Bible study I heard a great talk on envy. Its a sneaky thing…not always so obvious, not always in front of us, but are we envious? YES, you bet I am… Subtly, but I am. I don't overtly say it, I don't waste much time moaning about it, but do I wish I were better? I would even go out on a limb and say that we ALL are envious of someone/something. The speaker also talked about how envy is usually between those most like you (age, interest, talent, gender). So it makes sense that I look around the blog world and am filled with envy!
Yep! I am envious of the pictures that
Dana at MADE
takes. (and so many other fabulous photographers!)
I'm envious of the followers and comments other blogs have/receive.

I am definitely envious of the talents of others… The sewing, the home decorating, the cooking,
I envy the time they have to spend on all this… and the they money the probably make from doing what they love.
But, I was reminded once again this morning that we are all given different talents and even those of us with the same talents to varying degrees.
Matthew 25: 14-30
In the "parable of the talents," we get an idea of what God expects us to do here on earth. We're all given talents, some great and some small–but whether your talent is epic or miniscule, we glorify God when we use it to further his kingdom. God isn't rating His followers based on the number of converts they win over or the number of church pews they fill; He's interested in the passion with which we use whatever gifts he has given us. 
I ca
n even apply this to my simple little crafting blog. I might never be the best (in fact I'm sure I won't be), and I probably won't make a ton of money, or have 1,000s of followers. But, I have been given a passion to craft (and blog about it) and I can just do the best I can.
This morning the speaker talked about how we can respond to the talents we are given. 
Those who are one talent people need to be grateful for what we have been given and do the MOST we can with it. Don't bury your talent in fear that its not enough!
Two talent people should aspire to be the best they can be within those two talents and make the most of what they have.
And finally the five talent people (those amazing bloggers that I envy) are challenged to inspire and help those with less to be better. Being fabulous is a dangerous place, those who envy you can be cruel and the higher you are the farther you can fall. (Good thing I won't have to worry about this!)
Also, for the talents we do have we need to still seek out help (heavenly and earthly!) if we are relying only on ourselves our talents will only take us so far. Its only with Gods help that we can truly be who we were made to be.
Where do I fall? Not sure…not five talents that's for sure! But in reality we don't need to qualify or classify ourselves. I think what the parable it truly saying (and what the speaker reaffirmed this morning) is that God wants us to be content. We are ALL blessed. He chose bless each one of us differently, but this doesn't really mean more or less.
The challenge for me is to stop comparing and just choose to be happy with what I have!
What about you? Are you like me, envious of all those in the blog world who seem to be perfect at what they do? How can we choose contentment over envy?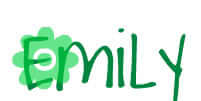 Looking forward to seeing you around the blog…. don't be a stranger!