I figured since I opened this party up to crafts I could occasionally share a craft myself! Don't worry, I will be back to recipes next week, but I made this fabulous wreath over the weekend and just had to share. Its still blazin' hot here, but deep down I'm a mid-west girl where the weather actually changes and the fall leaves are amazing! So, I had to make something to fill the fall need in my life…
 Want to make one? Start by printing this leaf pattern, or using one of your own.
You will need:
Felt
coordinating material
Wreath frame or circle of cardboard
cover for wreath base.
1. I started by cutting out 9 leaves from the material (measure the leaves end to end around your base to see how many you need) I stitched these onto the dark felt to stiffen the fabric.
2. Cut out other color felt leaves that will go side-by-side around the wreath add some decorative stitching if you want.
3. now, I wrapped my wreath frame in twine to cover it. When I finished I realized you hardly see it anyway, so this probably was a waste of time. If I did it again I would just cover it with a bit of felt or burlap instead of taking all the time to wrap it.

4. Add a hanger at the top of your wreath.
5. Glue the felt leaves stems in side-by-side around the wreath. I just used hot glue.
This was how mine looked at this point.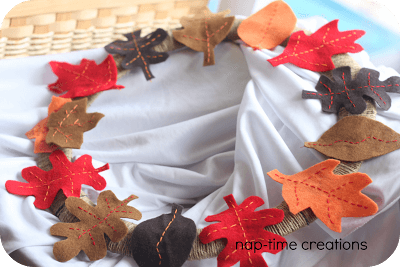 6. Glue the fabric leaves end to end around the wreath… again I just hot glued…
7. Add a twine or ribbon bow and you are finished!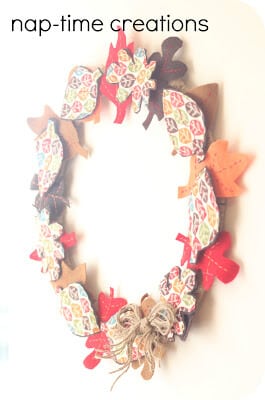 I love it! A great substitute for the real thing… but I am still dreaming about leaves crunching under my feet and jumping in piles of them.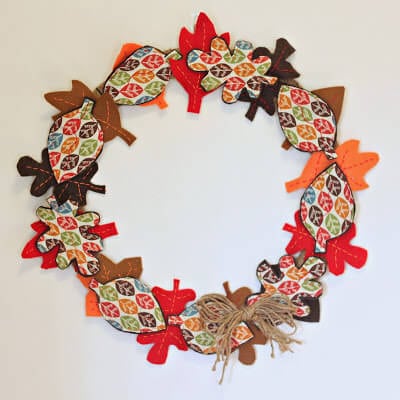 So…. thats my version of a fall wreath… what are you crafting this fall?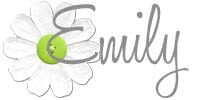 Enter your email address:
->
Looking forward to seeing you around the blog…. don't be a stranger!
Check out these other fun posts