Yep, Its true…Its my birthday! I'm not one to have big celebrations, but its nice to take a moment to mark the passing of another year, and celebrate the possibility of the one to come!  I've hidden my age somewhere in this post… can you find it? Oh, if you have spare time and are bored you can update your blog with my new buttons! ha (bored…??? when does that happen, right?)
On my plate today… sharing Salmon Cheese Springrolls… which by-the-way.. are a great way to "hide" veggies so kids will eat them.
 These are simple and tasty (if you haven't noticed by now…I'm a simple girl!)
I use egg-roll wrappers from the freezer section (thawed)
celery
carrots
bean sprouts
Salmon
cream cheese
Saute the celery and carrots in a bit of olive oil until tender, then add the sprouts for just a min. I used a microwave steamer bag to cook the salmon while I was cooking the veg. Use a fork to break the fish into small pieces.
Heat 1/2 inch oil in shallow fry pan.
on each wrapper place: smear of cheese, scoop of Veg mix, scoop of shredded salmon.
Roll and use a bit of water on your finger to keep the wrap closed. 
shallow fry, I turn and cook on three sides to get the whole thing. 
Drain on paper towel and serve warm… yum! I love the way the cheese is all warm and gooey. 
You can also make this without the fish, and its really great.
Speaking of GREAT…. you all outdid yourself this week. I had a hard time choosing(31), so here are many features…Each has been linked to my facebook page and Pinterst board…hope you get lots of visitors!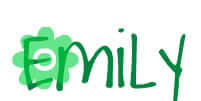 Looking forward to seeing you around the blog…. don't be a stranger!