I found this recipe in a magazine while sitting in a Drs. waiting room years ago. I've since tweaked it so much I'm not sure how much it is even like the original, but its yummy! It was in some sort of health magazine, so its also good for you. So here you go!
You will need:
1 Med. Onion (diced)
3 TBS Olive oil
2 Carrots (chopped)
2 TBS Curry Powder (I double this)
1 tsp salt
 1 Med Head of Cauliflower (chopped)
1 can Chick Peas (or garbanzo beans) (I think they are the same thing?)
1 cup 0 or low fat greek yogurt (you can use regular plain yogurt, but you have to strain out the moisture)
2 cups Chicken broth (maybe a bit more if needed)
3 Potatoes (cubed)
In a large fry pan or wok cook the onion, potatoes and carrots in olive oil for 10-12 min. Stir in curry powder, salt and cook 3 min. Add broth, heat to a boil, add the cauliflower and beans. Cook 10 min. (or until everything is soft) Add yogurt- Serve over Brown rice.
In this dinner I served with a store bought roti, but I also make homemade naan sometimes… a recipe for another day!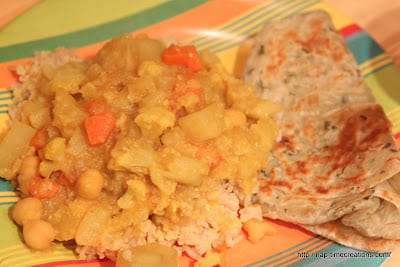 This past weeks party was a NEW record! You guys are awesome linkers… wow 1—- links!! I can hardly believe it, you much have been cooking up a storm! To celebrate we have extra features today. 
First: Savory
1.
GlutenFreeHappyTummy
-Broccoli Cupcakes with Carrot Frosting
2.
Turtles and Tails
-Asparagras, Feta and Strawberry Salad
3.
Sarah's Kitchen
– Venezulan Empanadas
4.
Calcium Rich Foods
-Salmon Wraps
Follow along here: Facebook * Flickr * Pinterest
shared here:
Meatless Mondays-My Sweet & Savory
Tempt My Tummy Tuesday (Food Only) @ Blessed With Grace
Totally Tasty Tuesday @ Mandy's Recipe Box
33 Shades of Green-Tasty Tuesday
Looking forward to seeing you around the blog…. don't be a stranger!