My son wanted to make a backpack. I wasn't sure about sewing an actual backpack, but I knew I could whip up a little knap-sack… I had some leftover dyed green fabric and some great fabric markers that I picked up at wal-mart. We put these all together and came up with an easy sewing tutorial: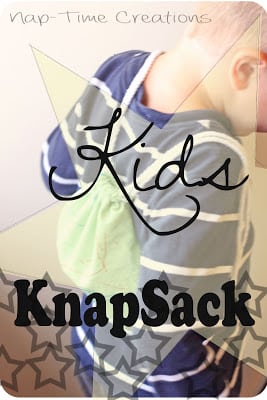 We were all pleased with the outcome of this project! I got to create a quick, easy sewing tutorial, my sons got to have little knap-sacks, and we made a few extras to give as gifts. This is a simple project- even a beginning sewer could tackle this one!
Let's get started!
you need fabric and cording
You will need a rectangle of fabric. You can make it an size you want. Our started about 10″x20″
I double turned the short ends to finish them. You will want to turn once a small hem and then a second larger hem, that will also serve as a casing for your cording.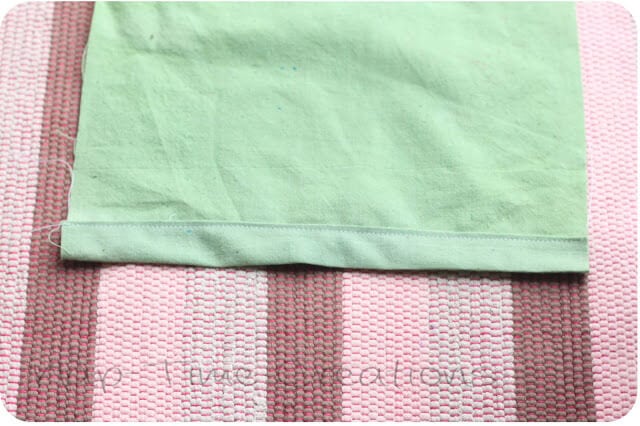 Cut your cord the same length as the perimeter of the fabric. (length 2x the long sides and 2x the short sides) thread your cord through one side of the casing and then through the other.
Then repeat, but thread the opposite direction. You should have two strings from each side. (they should be the two ends from the SAME cord)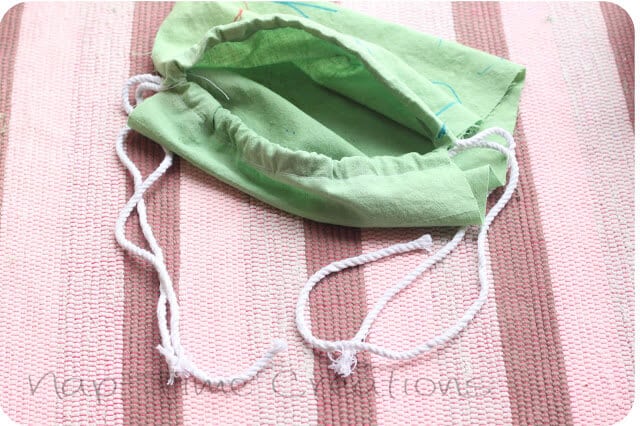 Now turn the bag so you are looking at the inside. Tuck all the strings so they are inside the bag (which is actually the outside because we are looking at the wrong side)
Then sew up the side seams. This is the inside now, and the strings are on the inside, which when turned will become the outside.
Turn and…TA-DA!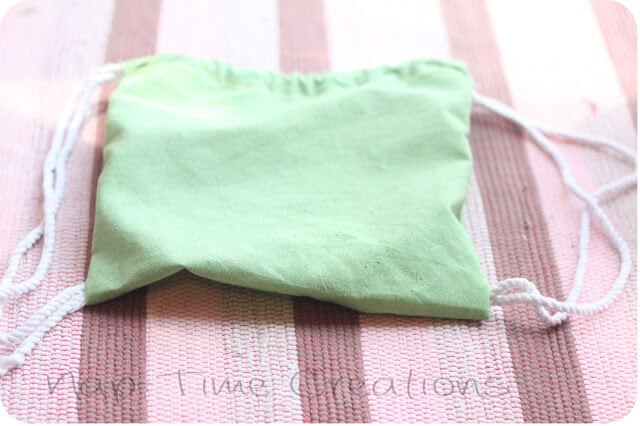 When you pull the strings it cinches up nice and tight…. knap-sack style!
Now comes the fun part… (side note: my kids are NOT so artistic…)
Kids can go crazy with these fabric markers!
We made a few… not all the same size, but just using up the fabric I had on hand.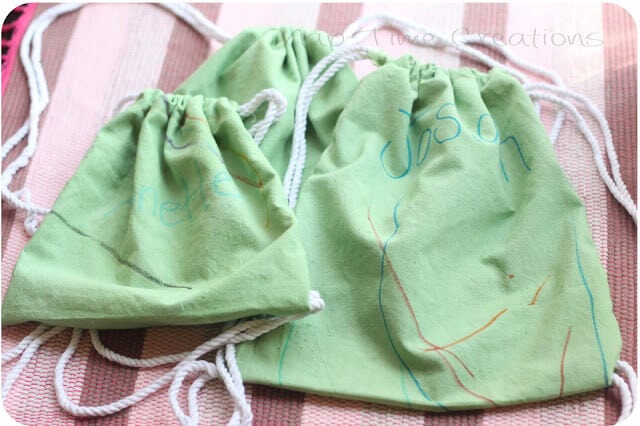 Jack is a bit of a pack rat… and he had his little bag filled in no time! I hope you are able to use this easy sewing tutorial to make something for the little guy in your life.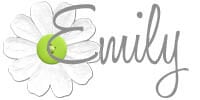 Enter your email address:
Strut Your Stuff Saturday-Six Sisters Stuff
Or So She Says-Hello Weekend Your great Ideas * Overflowing with Creativity-Its Overflowing
Sundae Scoop-I Heart Naptime with Chocolate Sundaes * Nifty Thrifty Things Sunday-Nifty Thrift Things
* Sunday Showcase Party-Under the Table and Dreaming

Looking forward to seeing you around the blog…. don't be a stranger!