This is my new super simple and super easy summer treat for the kids. (yes.. I know its almost fall… but its still blazin' hot here in Hong Hong!) If you don't live in a place that sells British food you probably aren't familiar with Digestive Biscuits…We love them and can get them here. I know the name might seem unappealing, but they are yummy and taste kind of like a graham cracker.
Here's how you do it:
 Now…onto your fabulous projects! Here are a few of my favorites from last week! Did you guys like having one big party rather than the two separate parties? All these features are posted on my Pinterest features board and my facebook page, head over and check it out!
Let's Party!!!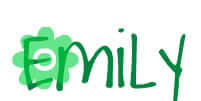 Looking forward to seeing you around the blog…. don't be a stranger!