I started this quilt LAST summer… We were home in the US for our summer visit and my in-laws were getting ready to move. We had to go through the boxes we store at their place and in them found A LOT of old t-shirts that my husband had packed away. In the spirit of trying to get RID of things, I volunteered to make a quilt out of the old shirts, so we could throw out that box. We went through them and I cut out the design from each one. When I actually sat down to make it this spring I realized that each one was a different size, so that was going to make for some interesting quilting (and I am NOT a quilter!)
I evened out the sides and squared each piece up.
I had some scraps from my backing, so where ever I needed to fill in a gap; I just used the same blue. You can see a few of these fillers in the quilt. I did lay it out like a puzzle, then just started sewing! Its definitely not perfect and would make expert quilters faint, but I was pleased with how it turned out and my husband loves it! It was his birthday yesterday, so I showed him the surprise…he didn't know I had been working on it lately. SO many fun memories for him. I'm sure this won't be the last t-shirt quilt I make in my life.
Linked to: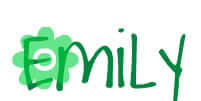 Looking forward to seeing you around the blog…. don't be a stranger!