This was the menu….
I am not sharing exact recipes (because that's not really how I cook :o) But, you can get the general idea and see what you like from there!
 Cucumber Bites:
Small cucumbers (less that 1 inch wide)
low fat sour cream
bacos
green onions
minced garlic
 California Rolls:
 Crustless Quiche:
I must admit, these lime bars came from a box…. :o)
 Fruit Kabobs:
Pineapple, kiwi, grapes, melon.
Party on Friends!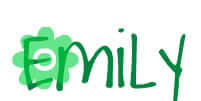 Looking forward to seeing you around the blog…. don't be a stranger!