Where did this last week go? My life is flying by, but there is always time for pumpkin muffins. These are some of my favorite because its delicious pumpkin, but its also a healthy snack for the kids. Whole wheat flour, no oil and very little sugar make these pumpkin muffins really a healthy snack.
Healthy Pumpkin Muffins
2 cups Whole Wheat Flour
1 tsp Baking Powder
1/4 tsp baking soda
1 tsp salt
cinnamon and nutmeg to taste
1/2 cup brown sugar
1/2 cup applesauce or oil
3/4 cup pumpkin ( I usually add a bit more)
1/3 cup milk
2 eggs (slightly beaten)
Combine the wet ingredients in one bowl and the dry in another.
Slowly add the dry to the wet, don't stir too much. Spoon into muffin tins and bake 15-20 min at 390 degrees.
I made a batch and a half so I could make some mini muffins too.
 Give some for a gift or share with a friend…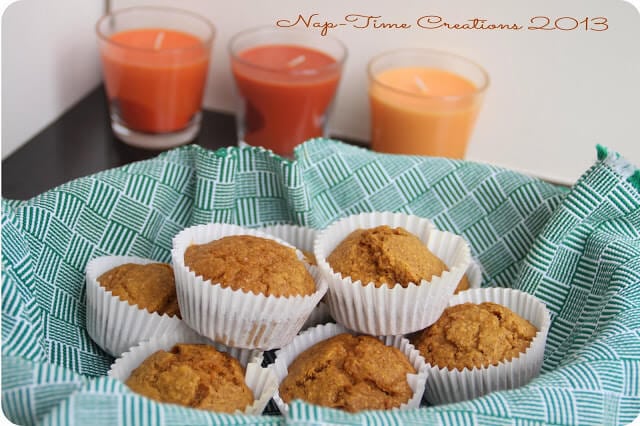 Or, just eat them all up while warm, these pumpkin muffins are So tasty and good for you.
For other pumpkin recipes see: