Check out all the Thanksgiving fun…
I love this project! I actually ended up making two the same because I just loved it so much. I happened to just have the perfect fabric on hand, so it was easy.
Once again… I am working my way through the book:
I adapted the pattern just a bit and here is my result….
Let me just share the few easy steps it took to create this beauty.
You will need:
 Cut out 28 squares approx 4 1/2 inches.
 two long strips in the same or coordinating fabric. Approx 55×3 inches
 a fabric for the backing Cut to size after top is done. Approx 27×54
I also used fusible interfacing to make the backing more sturdy.
Picture by Picture:
1. Interfacing fused to backing
2. Sew pairs of squares (say that 10x fast!) together, iron open.
3. Sew the pairs together to make a long chain of double wide squares.
4. Iron and even out the edges
5. Pin and sew the the two long side pieces to the patchwork center.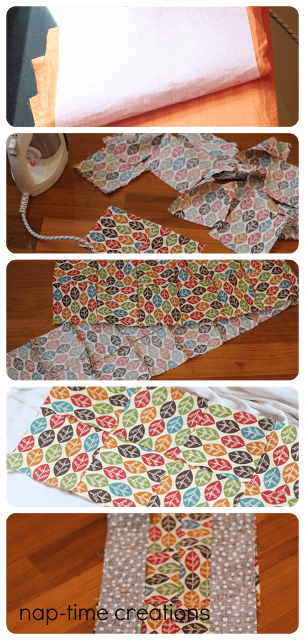 Sew backing on with right sides together leaving a small gap to turn. I top-stitched around the whole runner, and also some machine quilting down the center and sides to hold in place. Quilt as desired….
Now, please don't compare this simple photo of a table to the tables to come…