I don't often sew for myself.. but I usually love when I do. This project was no different. I have this purple yoke tank that I love… So I copied it, and added a few changes. And now I'm passing on this free tank top pattern to you! First, I used a light weight cotton (no stretch) and second I made it a bit longer. I think the result is a bit more dressy than the original.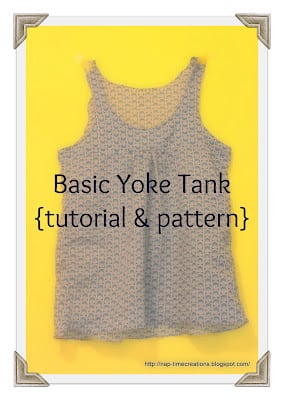 I would say this is a size small or x-small. But, you can make any size you need with just a few simple changes.
you can find my pattern pieces here
Google doc should be downloaded to computer before printing or it won't come out correctly.
or
Or, you can measure on that fits you well and compare to my yoke to get started.
1st: create the yoke part. Use mine, or trace the top part of a tank top that fits you well now. I cut two of the same and sewed right sides together. Clip the seam and turn. Top stitch all around, including the unsewn bottom. (this will keep the two pieces together.)
Cut a rectangle for the rest of the front. It should be wider than the yoke (how much will depend on how full you want the gathers. Mine was around 6 inches wider. The length should be how long you want your shirt. Yoke + rectangle = length.
I only gathered the center (see arrows) until the width matched the top.
Pin and sew right sides together.
The back was simple. I traced the tank (you can use my pattern, only the top part is included, extend down to the length need. Make the angle slightly slanted out so the bottom is larger than the pattern) You can also use a tank you like for size and tracing) Because the fabric was so thin, I used a rolled hem foot around the arm holes and neck on the back, so easy! You can also make a strip of
bias tape
from your material and edge the top.
and… here's what it looks like on. I think I should have ironed it first! Also, no head… it was just one of those days…ha!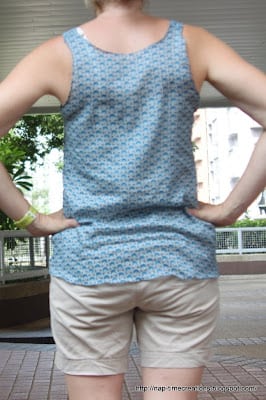 I would love to see what you come up with! Do you know any other free tank top patterns? I really love sewing for myself and need to find more tank top patterns! Here is a
maternity version
(no, I'm not pregnant)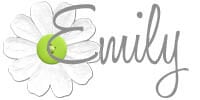 Enter your email address:
Looking forward to seeing you around the blog…. don't be a stranger!