I made another batch of Big/Little Brother shirts this week for some friends having babies so I thought I would give a tutorial while I was at it. I have several friends having 2nd/3rd babies so I thought these shirts would make great gifts. I will be making a girly batch soon! Okay, I know there are tons of tutorials out there on how to do this, but here's my method.
1. I bought all white shirts and onsies because it was the cheapest way to go. So, first I had to die them blue. I used RIT Royal Blue die and I LOVE the color!
2. Print out or draw what you want to paint on the shirt. Cut out the outermost edge first. Save the inner parts though as you made need some of them.
3.
Iron the paper onto the shirt, shinny side down. You can place the iron directly onto the paper. After you have the outside on, place and iron any small inner pieces.
4. Paint away! You don't have to be neat at all (which I love!). Make sure to get everywhere and along the edges.
5. Peel off the large paper first
.
6. Then pull off any smaller inner pieces.
7. Finally, you can embellish your painting with anything you want. Sewing, buttons, etc… I handstitched on the letters to add details.
Shared on these great blogs: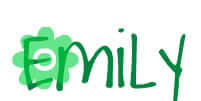 Looking forward to seeing you around the blog…. don't be a stranger!