I tried my hand at a tote back recently as mentioned
last week
. It turned out So cute I thought I would share this tote bag tutorial with you!
1. Hand die the strap to match the bag fabric. I only keep muslin colored straps around, then just die them to match the project.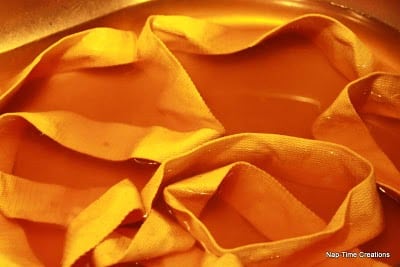 2. Cut two rectangles. One for outside and one for liner.
Lay out the strapping on the outside layer and arrange until even and the way you want them. If you are putting on outside pockets putting them on with the straps is a great way to do it. I also put zippers in these two pockets so before I sewed the straps I sewed one side of the zipper to the bag and the other to the pocket. Keeping everything VERY pinned down I sewed down the straps.* Don't sew the straps all the way to the edge at this point. I sewed just above the pocket then stopped for now.
I also added some decoration to the pockets before sewing.
Freezer Paper Stencil
3. Attach any pockets you want to be on the inside of the bag now. I put a larger one on one side and a pencil/pen pocket on the other. Remember the tops of both pockets should face the edge of the fabric as this will be folded.
4. Sew up the side seams and corners of each piece separately. After I sew the side I pinch the corner keeping it centered then just sew a straight line perpendicular to the side seam. Cut off the corner and you have a bag!
5. With right sides together. Sew the two parts along the top edge only. Keep the straps tucked in tight at this point. Leave a small hole to turn the bag.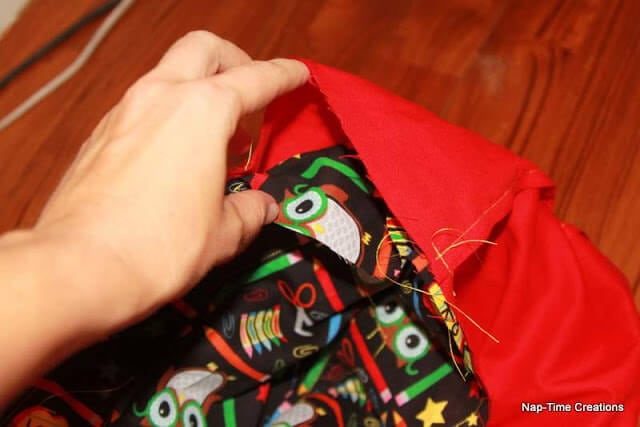 6. turn the bag right side out and top stitch around the top. *sew down the straps now to the edge. This will also help secure the two pieces together. I also sewed the sides together to keep it secure. With the right side facing me I just sewing right down the seam. Didn't perfectly line up with the inside seam too, but I used red thread so you couldn't see.
Finished Product pictures!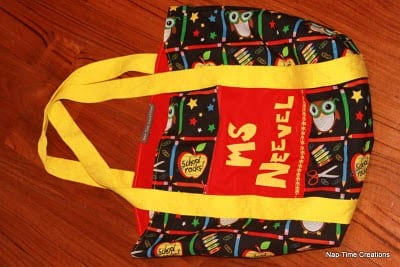 the zippered pocket
Do you make your own totes? This was my first, but I think I'm hooked. I hope you found this tote bag tutorial helpful, let me know if you have any questions!
Enter your email address:
Looking forward to seeing you around the blog…. don't be a stranger!